The Clean Boot Blog
Chad Madill - The Clean Boot -
Thursday

,

31

Jan

2019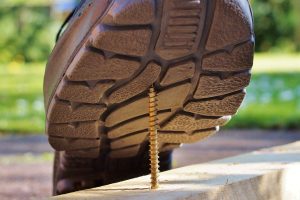 Let's admit it, you can conquer the world in the right pair of shoes. Equipping your workers with a protective pair of work boots/shoes can not only prevent them from foot injuries but it also enhances their productivity and lengthens their working hours.
To comply with federal laws practiced by OSHA, it's now mandatory for industrial organizations to provide their employees with a pair of protective shoes. The Occupational Safety and Health Administration has enforced numerous rules and regulations related to safety measures that incorporate the prevention of foot, ankle or knee injuries in the workplace. The regulations have been applied under CFR 1910.136 (Section 29).
Criterion
According to this law, it's compulsory for workers to determine that each worker is using protective shoes, particularly in high-risk areas where several types of foot injuries could occur. Moreover, workers are also required to use such footwear in regions where electrical hazards are present.
OSHA recommends that specialized protective footwear should be used in:
Lethal or caustic materials
Electricity shocks or other electricity-related problems
Regions affected by static electricity
Places with heavy objects
Razor-sharp objects that can harm your foot
Melted metal that can cause severe burns
Slick or unstable surfaces
The Importance of Maintaining OSHA Required Footwear on Jobs
Failure to comply with OSHA standards may bring on warnings and penalties. The only way to avoid such fines is to strictly adhere to OSHA-provided guidelines.
Noticeably, the authority isn't enforcing these regulations on all types of companies. They are pursuing those who are not considering the importance of protective footwear for their workers. OSHA's approach to demonstrating the significance of protective shoes is also very unique. They are giving comparative examples of how a firm can save hospitalization charges or insurance reimbursements by just investing in the right pair of shoes/boots for their employees.
The importance of using preventive footwear is evident from the following points: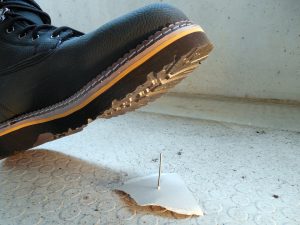 It Protects From Heavy Objects
Places, where man and machine are working at the same time, can cause severe foot or toe injuries. Steel toe boots can be a good option to safeguard feet from crushing injuries.
Protects from Pointed Objects
As protective shoes come with heavy soles, they provide incredible support and protection against sharp objects. These pointed objects are generally found at construction sites and a simple, conventional soft sole is definitely not enough to provide protection.
Protects from Slips and Falls
Slick and slippery surfaces can also cause severe workplace accidents. Ideally, businesses should follow proper housekeeping guidelines to protect its workers from serious injuries. Proper footwear can also be used as one of the measures to prevent such problems. Shoes with suitable traction can prevent slips and trips and therefore should be used by workers who work on wet or slippery floors.
Prevents Burns and Fatigue
Generally, workers are required to be on their feet all the time. This may result in muscle pain, tiredness, and fatigue. Footwear that comes with padded support results in comfort, reduces pain and alleviates muscle strain.
Moreover, protective footwear can also prevent workers from chemical burns, melted metal or other harmful substances.
Protection from Harsh Weather
Extreme weather conditions can trigger numerous foot injuries including frostbite and Raynaud's syndrome. Workers who work in wet, damp or cold environments are usually at high risk. Since protective footwear is waterproof in nature, it provides enough protection against harsh weather conditions.
Conclusion
According to OSHA CFR 1910.136(a),
"The employer shall ensure that each affected employee uses protective footwear when working in areas where there is a danger of foot injuries due to falling or rolling objects, or objects piercing the sole, or when the use of protective footwear will protect the affected employee from an electrical hazard, such as a static-discharge or electric-shock hazard, that remains after the employer takes other necessary protective measures."
As you can clearly see, the right pair of shoes/boots can protect your workers from many disastrous problems. Complying with OSHA regulations can make your workers comfortable and safe. It will help them focus more on their tasks and will eventually result in increased productivity and output for your business.
Chad Madill - The Clean Boot -
Friday

,

25

Jan

2019
Slips, trips, and falls… These are the consequences that contractors working in the field go through often. There have been many cases reported in the past few years regarding injuries caused by slips, trips and falls at the workplace, while some of those cases also resulted in the death of the worker. These cases highlight the fact that the field staff deployed in the workplace should be knowledgeable enough to prevent slips, trips, and falls.
It's not just about the deaths or life-threatening injuries, there are common foot problems as well that are associated with slips, trips, and falls. There are a lot of other reasons for foot problems that result in workers complaining, like standing in the workplace for hours. There are many other work-related situations, but slips, trips, and falls are the three major causes behind severe foot problems.
Slips, Trips, and Falls – In A Nutshell!
Slips – Take place when your feet are unable to maintain enough grip on a surface. Conditions like wet floors, oily floors, and haphazardly kept walking mats, can cause slips in the workplace.
Trips – When your feet strike an object, your body-balance becomes disrupted and you eventually fall on the ground – or at least come close to falling. A workplace full of obstacles and clutter can cause workers to trip.
Falls – These are the ultimate consequences caused by slips and trips.
The Importance of Quality Footwear at Work – How Does it Help?
It's very important for the workers working in the field to take necessary care throughout their daily operations. Organizations also need to ensure that all safety measures are taken in order to avoid any accidents. But the chance of a possible slip, trip or fall, are always there, no matter how safe the environment. That's the reason why having an additional layer of safety is recommended. Hence, wearing quality footwear at work is highly recommended for workers performing jobs such as electricians, movers, plumbers, telecom technicians, or any similar job that involves construction or tasks that require the use of Safety footwear.
The two most obvious advantages of wearing quality footwear at work are highlighted below. These points explain how quality footwear helps prevent slips, trips, and falls by workers.
Sudden slips, trips, and falls are awkward situations that can take place in any work environment. Organizations (employers) should develop safety measures to ensure that accidents do not occur. But despite precautionary measures, like drying the work floor after it's washed or cleaning up a water spill, there is no better alternative to quality footwear. Workers wearing quality footwear remain protected from sudden slips, trips and falls in the workplace.
Electric shocks are another big threat to workers working in the field. In order to mitigate the risk of electric shocks, good quality footwear generally made up of leather upper and a rubber insulated sole is recommended.
What Qualities Should a Work Boot Possess?
Straight inner sole (without any bumps);
Enough space for the toes to move freely;
Firmly gripped heels with a padded lining;
Cushioned soles for extra comfort;
Wide-based heel;
Enhanced Arch Support.
If you're interested in maintaining worker safety while in the workplace, consider purchasing a pair of The Original Clean Boot. They allow you to work in comfort and stability while taking away some of the risks associated with Slips, Trips, and Falls.